Alderbrook Community Association Contact Details
email: info@alderbrookonline.co.uk
Tel: 0771 261 1209
Please do get in touch with any issues you may have - we will try and help.
Alderbrook Planning Application for a car park - see http://www.planhttp://www.planning.wealden.gov.uk/plandisp.aspx?recno=132212ning.wealden.gov.uk/plandisp.aspx?recno=132212
Comments can only be made until 4th January so if you want your voice to be heard please comment on the application of get in touch with us or your elected representatives who are:
Clr Greg Rose - WDC Clouncillor and Cllr Peter Ellefsen - Crowborough Town Councillor.
Wealden District Council are making the appliction for a "temporary" car park for 9 cars so access to the SANGS (Suitable Alternative Green Space) can be made.
When approval was discussed for the new 160 home site at Walshes Farm, Wealden District Council planning meeting stated:
"The SANGS would be accessed through the development"
Meeting 8/14 - Minutes of meeting Planning Committee North - 23/10/2-14 - 14/136
This SANGS is vital to other planning applications in the area but presumeably cannot be proceeded unless this application proceeds or Rydon build the new homes
Meetings
The Association meets every other month on the 3rd Tuesday of the month - the next meeting is on Tuesday 19th January 2016 at 7pm
All Welcome
St Richard's Church Hall
Area Reps can be found listed in the blue banner on the left hand side of this page. These are all local people so please feel free to approach them should you have any issues.

We hold 6 meetings per year plus 4 Walkabouts to check on the estate with Housing Officers, local Councillors and our PCSO.
You would be well supported by a constructive committee who like to get things done. The reason we only have 6 meetings per year now is because the area is nice and peaceful with few problems - if you feel different then please feel free to come along to our next meeting or get in touch using the details shown at the top of this page.
Estate Walkabouts
11am from Noticeboard in Alderbrook Close
TBA
Crowborough Foodbank
United Church, Croft Road, Crowborough TN6 1HA. Tel: 07936 515 798
Email: info@crowborough.foodbank.org.uk Website: www.crowborough.foodbank.org.uk
Twitter: @CrowboroughFB
Christmas is coming - Greetings Cards!
Committee member Gwen Cottingham has offered to donate some money raised from the sale of her handmade cards to the Association. If you would like to purchase some please contact her on 07826 718765

"I Care For Crowborough" Community Litter Pick 26th September 2015
Thanks to all who volunteered and to St Richard's as always for the delicious refreshments!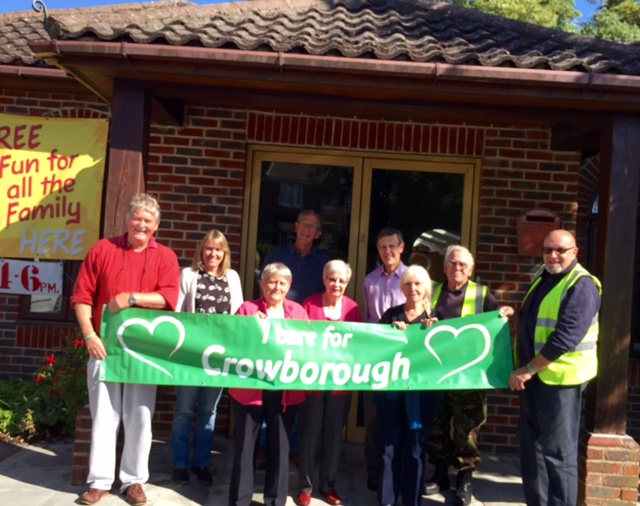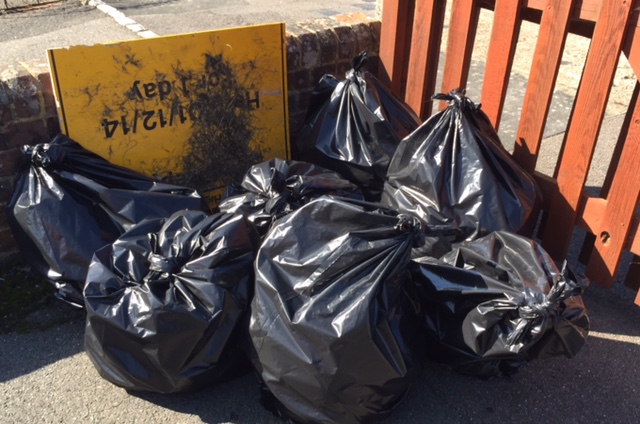 Junior Neighbourhood Watch Needs Your Vote!
Do you want to keep children safe and also help stop them becoming future causes of crime? Please see the Junior Neighbourhood Watch page.

To Report a Pothole, visit East Sussex County Council website at:
For information on Bus Service please see the Bus Information page - some new services and mobile times and Smart Cards now available.
http://www.wealdenbus.org.uk/about.html
Grit Bins
To help with spreading the grit on roads & pavements please contact the following person for your area who hold Keys:
George Jones, 31 Alderbrook Close - Covering Alderbrook Close/Stonecross Road
Bet Vincent - StoneCross Road
Barbara & Steve Ellen - 15 Aldervale
Gwen Cottingham - 5 Alderbrook Path
Raymond Wand - 54a Alderbrook Close
Chris - 2 Alderbrook Path
Remember you don't need lots of grit for it to be effective and these people are Volunteers so may not always be available. If you would like to help please contact us - details at the top of this page.
Many thanks for the donations we have received towards replacement grit which we as an Association pay for.
Police Surgery – Crowborough Town Hall, The Broadway, Crowborough TN6 1DA
PCSO Chris Harrison holds a regular police surgery on the last Thursday of every month at the Town Hall in Crowborough. All local residents are welcome to come along between 10am-11am, for crime prevention advice and to talk about any community issues.
You will also have the opportunity to sign up for Sussex Police Community Messaging. This is a free service which keeps you up-to-date with what's happening in your local area via email messages. You also have the option to provide your mobile number, which Sussex Police can use to text you if there is an urgent message we want to put out to the public. It's easy to register – simply sign up on the day, or register online here https://www.sussex.police.uk/my-account/sign-up
PCSO Harrison looks forward to seeing you there!
SUSSEX POLICE - Serving Sussex
Please do not reply to this message. Contact us online or call 101 when it's less urgent than 999.
Immobilise Scheme
Please see the link below to a short Sussex Police video which explains the benefits of registering with Immobilise:
http://www.sussex.police.uk/help-centre/ask-us/theft-and-burglary/what-is-immobilise-and-how-can-it-help-me-protect-my-things
No Cold Calling Zone
Signs have now been erected and an "Official" launch was on Tuesday 19th March 2013
By signing up to the scheme residents on the estate are deterring univited callers.
Volunteers Always Needed!
We need residents whether they be private, council or Housing Association tenants to help us do more. So much has been achieved in a short period of time but we can do more to improve quality the of life here in the Alderbrook area - if you want to be part of it please do contact us.
Many of us work full-time so help is always gratefully received.
There are many different topics that need residents involvement - our group only have 10 meetings a year but we also attend meetings for WRAG (Wealden Residents Action Group) who "oversee" all the community groups with issues that affect us all; the Community & Environmental Budget meetings where funding is allocation (see Noticeboards below) as well as getting involved in all the changes such as Council Tax, Benefits and the new Tenancies.
If you don't get involved or give us your input you have no reason to complain - we can and do influence issues but you need to get involved and have your say if not for yourself then for your children or relatives.
Thank you to the volunteers who have offered their services so far - more always welcome!
Noticeboards
Please keep an eye on these for up to date information - if you have a local event you would like to advertise please contact Jo - 0771 261 1209
Neighbourhood Watch Scheme
Should anyone be interested in becoming a co-ordinator please contact the Association.
Anti-Social Driving a problem? Check out the Sussex Police Website for info at: http://www.operationcrackdown.org/
Sally Wallace from Alderbrook has trained as an animal microchip implanter, is fully insured and Kennel Club registered. £15 for one animal which is much cheaper than the vets and she will go to peoples home to save the stress of taking the animal to the vets. Contact her on : 07766 292746