To Report a Pothole, visit East Sussex County Council website at:
Operation Blitz
An Operation Blitz team will be patrolling your area on Friday evening, between 6pm and midnight. Contact them direct by calling 07787 685765.
You can also interact with officers via our district Twitter accounts.
Operation Blitz is a partnership scheme aimed at reducing anti-social behaviour, underage drinking and low level crime.
A dedicated team of officers will be deployed to specific areas in your neighbourhood. The officers will deal robustly with any young people drinking alcohol and anyone behaving in an anti-social manner.
Thanks for your support.
Gareth Hollister
Twitter: @NPT_Coordinator
Email: district.wealden@sussex.pnn.police.uk
Wealden Neighbourhood Policing Team
SUSSEX POLICE - Serving Sussex
Please do not reply to this message. Contact us online or call 101 when it's less urgent than 999.
Sussex Police
Wealden Neighbourhood Policing Team
District Commanders message
Over the last month I have had the opportunity to get out and about in Wealden. I have had a number of meetings with partners to assist us in continuing to positively shape Wealden District in the coming year. However it is extremely heartening to know that this is still one of the safest places to live in the country, with us continuing to see significant reductions in dwelling burglaries.
We have seen a spate of car crime in Stone Cross recently. There have been thefts from a number of vehicles over two nights. The offenders have been breaking windows of cars and entering glove boxes and centre consoles to remove items of value. Some vehicles have also been left unlocked with items inside and on display. I would urge you not to leave items of value in your vehicle when left unattended. If you would like to speak with somebody regarding crime prevention advice please contact your local PCSO who will be more than happy to go through this with you.
We have recently been promoting safe internet use across Wealden for children. More and younger people have easy access to the internet through computers, smart phones and tablets. Social networking sites are extremely popular with teenagers. Chances are your children know more about the internet than you, which is why we need to ensure a measured approach to keeping our children safe online. There are many websites available that have good advice for parents and carers. Speak with your children and ask them
· Do you really know everybody on your 'friends' list?
· Do you know how to use and set privacy and security settings? Can you show me how?
· Do you ever get messages from strangers? If so, how do you handle them?
· Do you know anyone who has made plans to meet someone offline that they've only ever spoken to online?
· Are people in your group of friends ever mean to each other, or to other people, online or on phones? If so, what do they say? Has anyone ever been mean to you? Would you tell me about it if they were?
If you have any concerns then contact Sussex police on 101 for more advice.
I recently met with the principle of Hailsham Community College, Phil Mathews and had an interesting conversation with regards to internet safety and the role they are playing in keeping pupils safe. I was also at the school to meet with 4 pupils who assisted in saving the life of an elderly gentleman in Eastbourne. These 4 pupils demonstrated excellent community responsibility and are a credit to their college.
Finally I would just like to reiterate to everybody to report suspicious behaviour to us. You can call 101 or report it online by visiting www.sussex.police.uk.
Chief Inspector Gary Pike
Wealden District Commander
Meetings, events and local officer details
For your local officer's contact details, information about local events and meetings and actions being taken regarding your priorities click here
Want to comment on our updates or unsubscribe from this service? Email: district.wealden@sussex.pnn.police.uk
Fallen Tree in Alderbrook Way!
Luckily nobody was injured when this large tree came down in the bad weather on Wednesday evening. Hope everyone managed to get their damaged cars sorted out. Thanks to the Tree Surgeons who worked from @ 1am to clear the tree before the morning rush.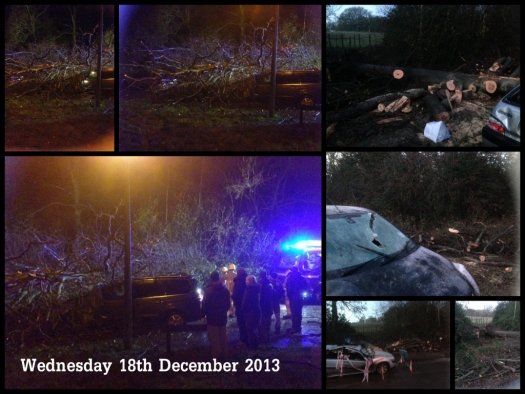 Grit Bins
To help with spreading the grit on roads & pavements please contact the following person for your area who hold Keys:
Fred Best - 96 Alderbrook Close/Stonecross Road Tel 0758 181 1433
Barbara & Steve Ellen - 15 Aldervale
Mike - 9 Alderbrook Way
Gwen Cottingham - 5 Alderbrook Path
Charlie Abbott - 33 Adam Close Tel 653188
Raymond Wand - 54a Alderbrook Close
Remember you don't need lots of grit for it to be effective!
Many thanks for the donations we have received towards replacement grit.
New Bus Services
For new/changed services see the Bus Information Page
Estate Walkabouts
11am from Noticeboard in Alderbrook Close
6th May 2014
9th Sept 2014
9th Dec 2014


Meetings


We have now changed our meetings to every other month - the next meeting is on Tuesday 11th March - all welcome to come along - 7.00pm St Richard's Church Hall to discuss local issues such as:
Walshes Road - 160 Home Development
This site has been included in the Local Plan.
Although no plans for the site have been submitted as yet - our local councillor Cllr Reynolds will be attending the March meeting so if you have any questions this would be a good meeting to attend. We need your views!
Information can be found on the Wealden Web Site.
Should you wish to be kept up to date on any issues please feel free to contact us using the Contact Form or approach any Committee Member.
New Waste Collection Service
Have you experienced any problems with the new service?
Bad or even good reports would be much appreciated.
Contact Jo on 0771 261 1209 or email via the Contact us page
Welfare Reform
From Amanda Hodge - Head Of Housing
Dear Residents Associations.....
Please find below a link to a Youtube clip which gives a useful overview of the welfare reform changes produced by the East Sussex Welfare Reform Project group.
I hope you find it useful and distribute the link far and wide.
Please remember Wealden has a Facebook and Twitter page and we will be using this more frequently to get information across to people who use the internet.
Please click on the link to watch the video on the East Sussex County Council website: www.eastsussex.gov.uk/community/benefits/video/default.htm
Amanda Hodge
Head of Housing Services
E-mail: amanda.hodge@wealden.gov.uk
PO Box 49, Hailsham, East Sussex, BN27 2AZ
No Cold Calling Zone
Signs have now been erected and an "Official" launch was on Tuesday 19th March 2013
By signing up to the scheme residents on the estate are deterring univited callers.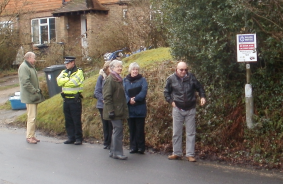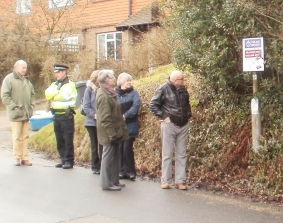 Good News!
Barclays have donated £415.92 to our Group following our Community Fun Day.
Thanks to their staff who helped us on the day.
Orbit donated £350 for Grit for our Grit Bins.
Many thanks.
Volunteers Always Needed!
We need residents whether they be private, council or Housing Association tenants to help us do more. So much has been achieved in a short period of time but we can do more to improve quality the of life here in the Alderbrook area - if you want to be part of it please do contact us.
Many of us work full-time so help is always gratefully received.
There are many different topics that need residents involvement - our group only have 10 meetings a year but we also attend meetings for WRAG (Wealden Residents Action Group) who "oversee" all the community groups with issues that affect us all; the Community & Environmental Budget meetings where funding is allocation (see Noticeboards below) as well as getting involved in all the changes such as Council Tax, Benefits and the new Tenancies.
If you don't get involved or give us your input you have no reason to complain - we can and do influence issues but you need to get involved and have your say if not for yourself then for your children or relatives.
Thank you to the volunteers who have offered their services so far - more always welcome!
New Noticeboards
These have been sited following our surveys.
Both the Boards and the No Cold Calling Zone costs were obtained from the Community & Environmental Budget which is funded from the Housing Rent Account ie Council Tenants Rent money. These improvements benefit ALL residents. If you would like to contribute to your Community please do contact us.
Youthlink Bus Service
A new service to get kids out and about - see Youth Pages for more info.
East Sussex Credit Union
Times and locations have been changed due to reduced funding - check the Credit Union Page for up to date information.
Smelly Bins?!!
From our newshound Ray - A nugget of info from Friends of the Earth:
This is a really effective way to remove unpleasant smells from smelly bins. Sprinkle a spoonful of bicarbonate of soda in the bottom of the bin, add hot water, swish around and rinse. Alternatively, you can sprinkle in the bottom, leave overnight, then rinse in the morning.
Greetings Cards!
Committee member Gwen Cottingham has offered to donate some money raised from the sale of her handmade cards to the Association. If you would like to purchase some please contact her or contact Fred or Jo.
Neighbourhood Watch Scheme
Should anyone be interested in becoming a co-ordinator please contact the Association.
If you would like to borrow gardening equipment or need HELP with gardening - See HELP page. We have volunteers ready and waiting to HELP!
Anti-Social Driving a problem? Check out the Sussex Police Website for info at: http://www.operationcrackdown.org/
For information about THE ROWANS - Accommodation for the over 55's, please go to: http://www.therowanscrowborough.com/ or ask for an information pack from your Area Rep or email using the Contact Page.
Sally Wallace from Alderbrook has trained as an animal microchip implanter, is fully insured and Kennel Club registered. £15 for one animal which is much cheaper than the vets and she will go to peoples home to save the stress of taking the animal to the vets. Contact her on : 07766 292746