Sussex Police
Wealden Neighbourhood Policing Team
Please be advised that a vintage Ferguson tractor has recently been stolen from a farm in Berwick. The tractor was grey in colour and had an attachment on the rear. If you have any information regarding the whereabouts of this tractor please call Wealden Police on 101 quoting ref 769 09/03/14
Once again we are seeing an increase in reports of theft of heating oil. This was a problem across Wealden last year, and it seems that it is starting again. Attached is a leaflet giving advice on how to protect your oil tank to make it less appealing to thieves. However for this type of crime to stop we need to catch the offenders.
We are currently investigating a number of these crimes, and our local Neighbourhood Policing team are visiting a number of properties to offer crime prevention advice. Late night patrols of vulnerable hotspot areas are also being undertaken by officers.
Please help us in reducing this crime by reporting ALL suspicious activity. If you see someone in a vehicle checking out oil tanks let us know. Be extra vigilant after oil deliveries and report anything suspicious. Report any alarm activations immediately.
By reporting all suspicious activity you help us in building a bigger picture and catch the criminal.
Please read down for information about your Group.
To Report a Pothole, visit East Sussex County Council website at:
Operation Blitz
An Operation Blitz team will be patrolling your area on Friday evening, between 6pm and midnight. Contact them direct by calling 07795 603678
You can also interact with officers via our district Twitter accounts.
Operation Blitz is a partnership scheme aimed at reducing anti-social behaviour, underage drinking and low level crime.
A dedicated team of officers will be deployed to specific areas in your neighbourhood. The officers will deal robustly with any young people drinking alcohol and anyone behaving in an anti-social manner.
Thanks for your support.
Gareth Hollister
Twitter: @NPT_Coordinator
Email: district.wealden@sussex.pnn.police.uk
Wealden Neighbourhood Policing Team
SUSSEX POLICE - Serving Sussex
Please do not reply to this message. Contact us online or call 101 when it's less urgent than 999.
Sussex Police
You may be aware of the reported thefts of Royal Mail post boxes which have been occurring nationally. We have seen a number of reported incidents of this nature in Wealden. Please can you be aware of any suspicious activity around the small style post boxes, which are usually embedded into a wall. Always call 999 if you see anyone attempting to remove one of these post boxes. If you see one of these post boxes for sale at auction houses, antique shops or similar, and there is no key to access it please report this to us on 101. In most circumstances if there is no key to access the post box it may be stolen.
Always report suspicious activity to us by calling 101 or by visiting the Sussex Police website. In an emergency please call 999.
Meetings, events and local officer details
For your local officer's contact details, information about local events and meetings and actions being taken regarding your priorities click here
Want to comment on our updates or unsubscribe from this service? Email: district.wealden@sussex.pnn.police.uk
This message was sent by Jamie Harwood Public Engagement Officer
Please do not reply to this email to report crimes or incidents…Contact us online or call101 when it's less urgent than 999
Fallen Tree in Alderbrook Way!
Luckily nobody was injured when this large tree came down in the bad weather on Wednesday evening. Hope everyone managed to get their damaged cars sorted out. Thanks to the Tree Surgeons who worked from @ 1am to clear the tree before the morning rush.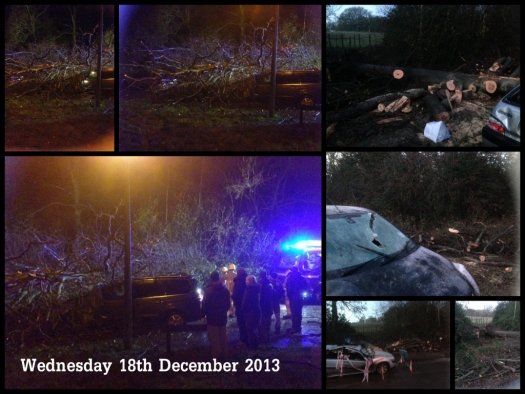 Grit Bins
To help with spreading the grit on roads & pavements please contact the following person for your area who hold Keys:
Fred Best - 96 Alderbrook Close/Stonecross Road Tel 0758 181 1433
Barbara & Steve Ellen - 15 Aldervale
Mike - 9 Alderbrook Way
Gwen Cottingham - 5 Alderbrook Path
Charlie Abbott - 33 Adam Close Tel 653188
Raymond Wand - 54a Alderbrook Close
Remember you don't need lots of grit for it to be effective!
Many thanks for the donations we have received towards replacement grit.
New Bus Services
For new/changed services see the Bus Information Page
Estate Walkabouts
11am from Noticeboard in Alderbrook Close
6th May 2014
9th Sept 2014
9th Dec 2014


Meetings


We have now changed our meetings to every other month - the next meeting is on Tuesday 13th May - this is our Annual General Meeting (AGM) - all welcome to come along - 7.00pm St Richard's Church Hall to elect committee members and to discuss local issues such as:
Walshes Road - 160 Home Development
This site has been included in the Local Plan.
Although no plans for the site have been submitted as yet, we need your views!
Information can be found on the Wealden Web Site.
Should you wish to be kept up to date on any issues please feel free to contact us using the Contact Form or approach any Committee Member.
New Waste Collection Service
Have you experienced any problems with the new service?
Bad or even good reports would be much appreciated.
Contact Jo on 0771 261 1209 or email via the Contact us page
No Cold Calling Zone
Signs have now been erected and an "Official" launch was on Tuesday 19th March 2013
By signing up to the scheme residents on the estate are deterring univited callers.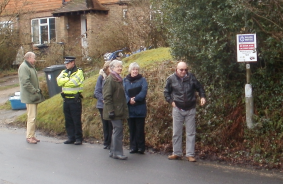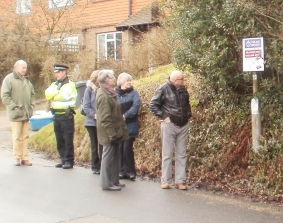 Volunteers Always Needed!
We need residents whether they be private, council or Housing Association tenants to help us do more. So much has been achieved in a short period of time but we can do more to improve quality the of life here in the Alderbrook area - if you want to be part of it please do contact us.
Many of us work full-time so help is always gratefully received.
There are many different topics that need residents involvement - our group only have 10 meetings a year but we also attend meetings for WRAG (Wealden Residents Action Group) who "oversee" all the community groups with issues that affect us all; the Community & Environmental Budget meetings where funding is allocation (see Noticeboards below) as well as getting involved in all the changes such as Council Tax, Benefits and the new Tenancies.
If you don't get involved or give us your input you have no reason to complain - we can and do influence issues but you need to get involved and have your say if not for yourself then for your children or relatives.
Thank you to the volunteers who have offered their services so far - more always welcome!
New Noticeboards
Please keep an eye on these for up to date information - if you have a local event you would like to advertise please contact Jo - 0771 261 1209
East Sussex Credit Union
Times and locations have been changed due to reduced funding - check the Credit Union Page for up to date information.
Smelly Bins?!!
From our newshound Ray - A nugget of info from Friends of the Earth:
This is a really effective way to remove unpleasant smells from smelly bins. Sprinkle a spoonful of bicarbonate of soda in the bottom of the bin, add hot water, swish around and rinse. Alternatively, you can sprinkle in the bottom, leave overnight, then rinse in the morning.
Greetings Cards!
Committee member Gwen Cottingham has offered to donate some money raised from the sale of her handmade cards to the Association. If you would like to purchase some please contact her or contact Fred or Jo.
Neighbourhood Watch Scheme
Should anyone be interested in becoming a co-ordinator please contact the Association.
If you would like to borrow gardening equipment or need HELP with gardening - See HELP page. We have volunteers ready and waiting to HELP!
Anti-Social Driving a problem? Check out the Sussex Police Website for info at: http://www.operationcrackdown.org/
For information about THE ROWANS - Accommodation for the over 55's, please go to: http://www.therowanscrowborough.com/ or ask for an information pack from your Area Rep or email using the Contact Page.
Sally Wallace from Alderbrook has trained as an animal microchip implanter, is fully insured and Kennel Club registered. £15 for one animal which is much cheaper than the vets and she will go to peoples home to save the stress of taking the animal to the vets. Contact her on : 07766 292746